Create a Powerful Recruitment Podcast
We all love a good podcast.
They're entertaining, educational, and easy to consume. They're also surprisingly easy to produce.
On Episode 5 of the Skill Point Podcast we spoke to Hishem Azzouz, the founder and host of Recruitment Mentors, about his dos and don'ts for recording a great podcast.
If you're thinking of starting up your own podcast, read on to find out our top tips for new podcast hosts. 
What's the point of your podcast?
From a business perspective, a podcast should be in some way benefiting your company. Whether it's creating brand awareness, generating leads from guests or used as a cornerstone piece of content, you should have a strategy behind your podcast.
From an audience's point of view, you need to be providing value with your content. If you're just using it as a sales tool, or you don't have a clear mission behind it, your audience won't resonate with it. You need to be offering them something they want to consume. 
Who makes great guests?
Hishem recommends a 30-guest strategy for your first episodes.
The first 10 people you have on should be existing clients – the people that you do a bunch of business with. That enables you to hone your interview skills on people that you have a relationship with. It will also give you a unique digital asset that your team can use to recruit for your clients.
The second 10 should be your prospects or dream clients. If you can get them on board for your podcast, that gives you an opportunity to tell them about what you do and create a relationship with them. At least 50% of people will say yes if you approach it in the right way.
The third 10 guests should be influencers or subject matter experts. These are the people in your industry that people want to listen to. Have a look at your industry and see who has the biggest brands in your niche. Get them on the podcast and piggyback off their brand to rapidly build traction.
Another way to gain traction from your guests is to hijack industry events. If you can find the guest list it happens, get them on your show and release the episodes during the event build up. Other people will be looking at their activity then, so aligning yourself with the relevant experts will build your credibility and act as free promotion. Add a hashtag to get more involved in the event, and that'll get you in the conversation.
Taking your content further by creating a white paper of insights from your guests' input. You can share it with the people you meet at events, email it to your mailing list or post it for your network. That helps to position you as an industry expert and a go-to for insights and advice.
If you're producing a high-quality podcast, you'll naturally generate interest. People will start reaching out and asking if they can come on the podcast. The best way to attract guests is to put in the effort to make it a great listen. Spend time building meaningful relationships with people, and take the time to reach out to inspiring people on LinkedIn.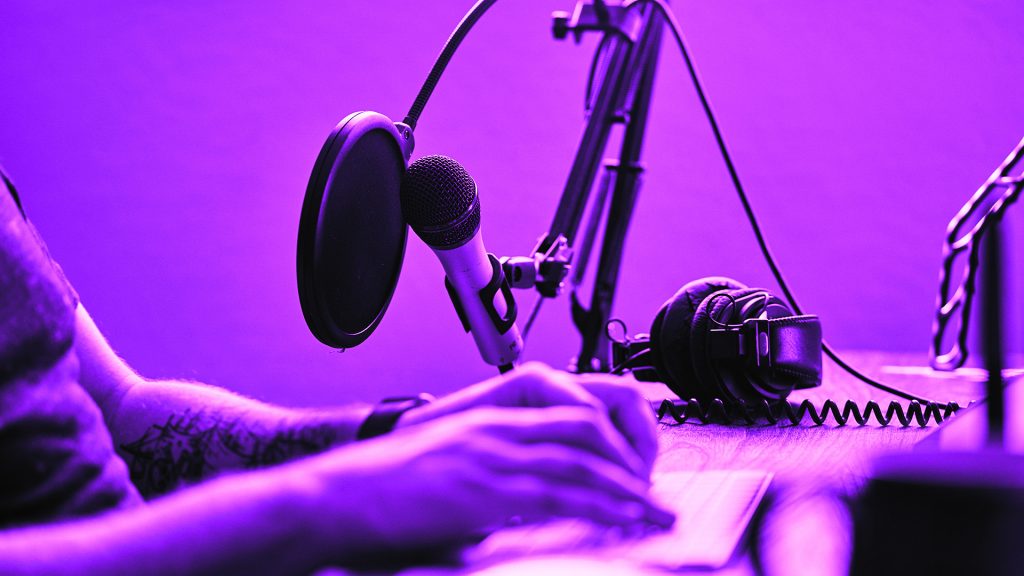 How do you manage conversation topics?
Once you've found an interesting guest, look at their profile and journey and figure out what people would be interested in hearing from them. Always have a prep call and write up a document of topics that you want to talk to them about or any audience requests for the episode. This doesn't have to be written out as a script, it's just a helpful jumping-off point that lets you and your guest set clear expectations.
Spend time building relationships with the guests beforehand. That can be on a call or over messages, but it's best to build a rapport before you start recording. In your prep call, always ask your guest 'Is there anything that you want to talk about? Do you want to sell anything?' Give them a set time to talk about it so you're not wrestling the conversation with them. They'll feel more comfortable and you'll have a better conversation. The purpose of the prep call is also to make sure that you're on the same page about your priorities.
While you're recording, it's best to let the conversation flow naturally. Have a rough starting point or first question to begin with, and then let things unfold. You can experiment with a quick-fire round to end the episode or have a high-impact question that drives home the point of your conversation. A great conversation is just that – a conversation. 
Top Tips for New Podcasters:
Over-prepare. Don't feel like you can just wing it because you're good at speaking, because hosting a podcast is a whole new skill.
When you ask a question, stay silent afterwards. It's a lot harder than you think. Letting the other person speak without 'active listening' will make a real difference to the audience's experience.
Listen to your own episodes. This will help you pick up on things that you might not even realise that you do. You have to be willing to learn and improve.
Learn to keep control of the conversation. If you feel the person is really going off on a tangent, then you have to reel them back in. It's like peeling back an onion. You've got to be good at listening, being present, and being aware of what your audience wants you to ask. You also need to draw out the high-level answers that actually add quality to your audience's experience by saying 'can you unpack that a bit more' or 'tell me more about this'.
Always thank your audience for supporting the podcast. Whenever someone tells you they've listened or enjoyed it, ask what topics they want you to cover or which guests they'd like to hear from. Take the time to understand your audience and show your appreciation for them. Keep notes of your feedback and learn from it. 
To learn more about hosting a great podcast, listen to the full episode of the Skill Point Podcast, or download our eBook here.