How to Make Great Videos for Linkedin
If you read our previous blog 'Revolutionise Your Social Marketing Strategy With Video', you'll already know the best practices for making and posting videos on Linkedin.
You might be wondering 'But how do I make them?'
Don't worry, we're here to help!
We've put together technical tips and a step-by-step checklist that will help you independently nail your video content.
Step 1 – Script Your Video
While it's tempting to include a branded introduction for your videos, ask yourself if your audience will want that. If you only include necessary content people are more likely to stay engaged during your videos. Try to include graphics or logos to promote your brand instead of creating an intro that isn't providing value to your audience.
Write a script for everything you want to include in your video and rehearse it before you start recording. Make your content concise and helpful to keep people's attention.
Don't use phrases like 'that's how you land your next job' until the end of your videos. Doing this will tell people that you've already given them what they came for, so they'll start looking for something else to watch. Avoiding those phrases will allow you to promote your own services or further content while you have a viewer's attention.
Wrap up your videos with a simple and clear call to action, and articulate what the benefits of following it are. Invitations like 'get in touch to find your next opportunity' let viewers know exactly what you're offering.

Step 2 – Record Your Content
So you've planned out your content, you've got a script and you know how you're going to grab attention. What's next?
When you're recording your videos there are some things you can do that will enhance your video's performance.
Make sure your videos are still engaging with the sound off, as that's how they initially play on LinkedIn. Your content needs to be visually appealing, so make sure that your speaker has dynamic body language, leans towards the camera and uses gestures to create an engaging video.
Change up your backgrounds too, even if it's just filming from varied angles to keep it interesting. It's also worth considering investing in visual assets that you can have in the background of your videos, such as your brand's logo, some plants or an interesting piece of decor.
Set up your recording studio somewhere that has good natural lighting and isn't too noisy so that you can get clear video and audio. Even making small adjustments like facing a window can make a lot of difference to your content.
Most of all, remember to have fun with it!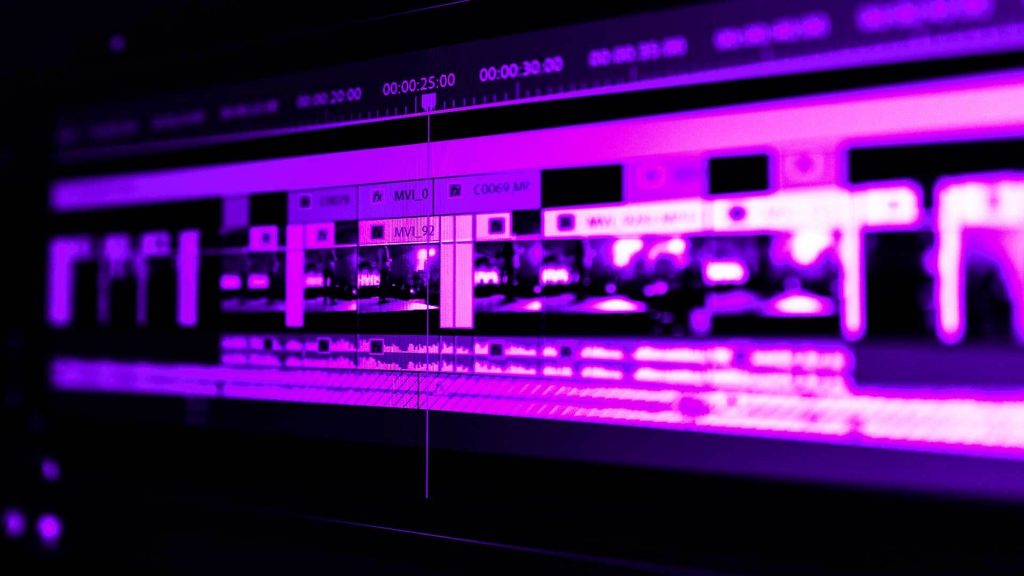 Step 3 – Edit Your Clips
Once you've recorded your masterpiece, there are some things that you can fine-tune during editing to make sure that your videos really stand out.
When you're editing your audio it's important to consider how engaging it is. Can you clearly hear the speaker, and is their voice dynamic and engaging? If it's sounding a little flat it can be helpful to include background music to provide an immersive experience. Be careful not to overwhelm viewers with too much stimulation though – if you've hosted a lively conversation with lots of different voices it could be overwhelming to have music playing as well, so consider how best to support the content that you have.
Consider the pacing of the video, and whether you can cut out any unnecessary pauses, stammers or repetitions. Keeping your content streamlined is essential to keeping your viewers engaged.
While you're editing it's time to insert any visuals such as slides, graphics or logos to your video. Consider adding gifs that encourage people to like or share your video, as well as helpful section headers and subtitles that further communicate your message. It's also important to ensure that you've properly adjusted your colour levels to reflect the tone of your content or brand, and apply this to all of your videos to create consistency.

Step 4 – Nail Video Copy
Before you upload your videos, think carefully about how you can engage your audience before they even see your video.
Crafting a great title is almost as important as having a good video. When writing your title, it's important to reflect what you're actually offering in your content. Don't use clickbait as people will leave if they don't get what they came for, and you'll have wasted an opportunity to engage with potential clients and community members.
Referencing your audience in your title can also be a good idea. People are more likely to watch something they immediately know will be relevant to them, so try using titles like this:
"5 Ways Videos Will Transform Your Recruitment Company's Marketing Strategy"
"Why Podcasts are the Future of Recruitment Marketing"
"How Recruiters Can Nail Personal Branding"
Another consideration is using closed captions. Failing to use them will exclude those with accessibility needs and limit your engagement. Not only that, videos automatically play with sound off on LinkedIn, so having subtitles can give people an idea of what you're talking about before they turn the sound on, making you more likely to get people interested in what you're saying.
Like titles, headlines are also essential to drawing people into your videos, so think carefully about what you're going to write to go alongside your video. Make sure you're giving people a reason to consume your content in the first sentence of your post, so that they're interested before they've even clicked '…see more'.
Do keyword research and tag your videos with relevant terms that will help them find the right audience on LinkedIn. You can include these in both your post and captions to boost their reach. Around 90% of people will read captions at least some of the time, so don't miss out on this resource.

Step 5 – Share Your Masterpiece
Now that you've grasped the basics, you're all set to go out and create high-performing video content!