How to Use Marketing for Business Development in Recruitment 
What's the point of marketing?
Whether you're advertising your products and services or building brand awareness, the aim of marketing is to get your company in front of more people. Ultimately, it's to grow your business.
On Episode 14 of The Skill Point Podcast we spoke to Claire Stapley about how we can use marketing as a business development tool in recruitment. Claire is a freelance marketing strategist who specialises in the recruitment industry, with over 7 years in the industry. Read on to find out what insights she shared.
The Benefits of Marketing in Recruitment
There has been an overall change in mindset over the last few years within the recruitment industry when it comes to marketing. While it used to be seen as unnecessary, there has been a shift towards seeing marketing as a valuable tool for supporting consultants' efforts in the field.
Claire shared that "A lot of pressure has come from new consultants who are asking, 'Why haven't I got LinkedIn Recruiter, which is a simple piece of collateral that I can take to a meeting?' It's important to them because the competition is so high."
Marketing makes you stand out in your market. With the number of recruitment firms out there, it's important that you can make a meaningful impression with your audience. A marketer will be able to take your expertise and translate it into engaging content that brings people into your business. Gone are the days of pray-and-spray cold calls. Targeted marketing creates valuable inbound leads and saves your consultants time.
Get Your Team On-Board
To get the most out of your marketing, it's important to get buy-in from important people in the business. If your management team is leading by example, persuading your consultants to put effort into their personal brands will be a lot easier. Always start with your C-suite.
Claire also advises "talking in numbers". If you can back up your strategies with hard figures, you're going to gain the trust of your consultants. "Fluff stuff doesn't resonate with a recruiter," said Claire. "They want to know what's in it for them." Pitch your ideas in terms of how it'll build their candidate base, the results they'll get from it and the potential for growth or promotion that will come off the back of it.
It's also important to use your team's feedback in your marketing. When your marketing team works closely with your consultants and sales teams, they can create collateral that helps the rest of the company do their job. Producing branded eBooks, email footers and LinkedIn banners is a great way to create brand awareness online, while personal branding creates meaningful connections with clients and candidates in your niche. Effective marketing will ultimately make it easier to sell your services, and a synergistic relationship between marketing and consultants is the best way to make your marketing meaningful.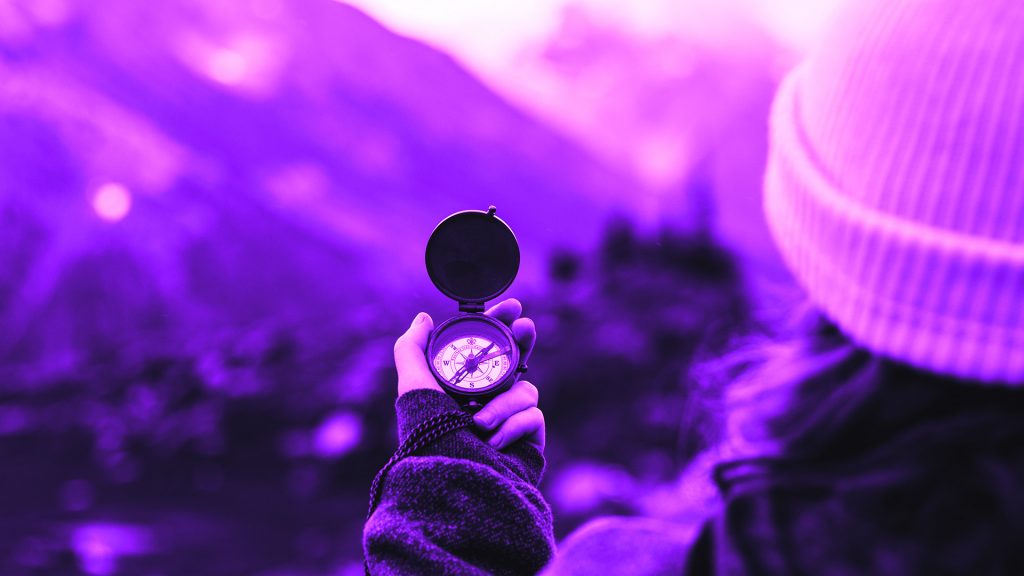 Creating a Marketing Compass
Your compass should always be aligned with your North Star. Figure out what your goals are as a company (such as improving gender diversity in the tech sector), then build a strategy that speaks to them. That could look like completing a salary survey that looks at the wage gap in your sector. and using it to engage candidates who are interested in moving into the space. Whatever your North Star is, always follow it if you want to create a strong brand.
From there you can start to build your marketing strategy. Review what marketing collateral you already have, and try to keep what you can. If it's fit for purpose, there's no point in getting rid of something just because it doesn't have your shiny new branding on it. Build from your existing baseline to fill out any weaker areas and create a unified company message.
Talk to your team to figure out what their problems are too. Maybe they're struggling to get candidates on board because nobody's heard of them before. Then it's time to work on your brand awareness through personal branding or advertising. If they need to build credibility in order to win over clients, whitepapers or testimonials would be a useful resource. Case studies and salary surveys can be used to engage different groups as well. Your marketing should always meet a need in your business.
Final Advice
Claire's last piece of advice is to be patient. She said that "You're gonna get a lot of pushback when you introduce marketing. If you can work through that and build some great internal relationships, you'll have a harmonious marketing team and a bought-in sales team, and it'll feel like cloud nine."
To hear more from Claire, tune into The Skill Point Podcast here.
If you'd like to learn more about creating an airtight marketing strategy for your recruitment business, you can also get in touch with us at Search Stack for a free consultation.
Email us on hello@searchstack.co.uk now!