The Ultimate Guide to Starting a Recruitment Podcast 
You need to market your recruitment company. Where do you start?
Maybe you've got your own website or you're active on LinkedIn, but your content isn't converting.
If you've been here before, you'll know that the answer is by adding value to your audience.
People want to be informed or entertained, so everything you share should meet at least one of those criteria. The real magic happens when you combine that with promoting your business and boosting brand awareness.
While sharing behind the scenes snaps or videos of your office pets is a great way to engage people, it won't get them invested in your company in the right way. They'll think of you as the 'funny dog people', not industry experts.
So what is the best way to market yourself as a thought-leader in your niche?
Podcasts.
They're a great way to get in front of the right people, and are fantastic sources for all kinds of content. Whether you're cutting clips to share on social media or collating expert answers into a research-backed whitepaper, podcasts are the holy grail of recruitment marketing.
As well as the endless stream of value-adding content that podcasts give you, they have the added benefit of putting you face-to-face with some of the biggest names in your industry – not to mention potential clients and networking opportunities.
Our customers have reported that up to 50% of their new clients come from their podcasts. Whether those clients are people who have appeared on the show or have simply been inspired by it, a podcast is a brilliant outreach tool.
Podcasts are also a great way to share your knowledge. If you have a hot take on the next recruitment technique, you can talk about it on air. If you're smashing your targets this quarter, what better way to celebrate than updating your network in an interesting clip on how you did it? Consistently talking about your expertise and success will build your brand and establish you as a thought leader and industry insider.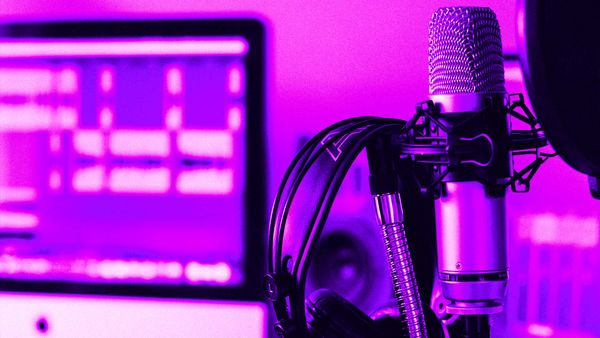 What's next?
Okay, so we've sold you on podcasts. What's next? How do you get started?
If you feel confident that you can do it on your own, what's holding you back? If you need a hand getting set up, we're more than happy to help.
No matter what your ability level or marketing budget, our Ultimate Guide to Starting a Recruitment Podcast will help you take the next step. Made up of years of experience-based advice, this eBook is your one-stop guide to getting started in the podcast game. 
The eBook is launching on Monday the 9th of January, so check back then to download your free copy! We're also making a Notion template available to everyone who downloads a copy of the eBook, giving you the opportunity to flesh out your podcast plans using our structured template. 
How can we help?
If all of this sounds like a great idea, but you're not sure you've got the time, we're on hand to help you with all your content creation needs. All you need to do is record each episode, and we'll do the rest, creating the podcast of your dreams. 
Contact us on hello@searchstack.co.uk to talk about how we can support you in starting the next big podcast in your niche.