How to Get the Most Out of Your Recruitment Podcast 
If you're marketing your recruitment company, chances are that you're running a podcast. They're a brilliant way to engage with your clients and candidates while building a name for yourself within the industry. They're also relatively easy to produce, low cost and provide a great ROI. If you're wondering whether a podcast is worth the effort, the good news is that you only need to publish 21 episodes to be in the top 1% of podcasts. Once you reach that threshold, you're laughing all the way to super-stardom.
If you're still not sold, we're going to break down the insights that Haydn shared in Episode 12 of The Skill Point Podcast, covering:
The business case for launching a podcast
The strategy behind getting your podcast off the ground
The tech you'll need to record your first episode
The best way to market your podcast
We guarantee that by the end of this blog you'll be sold on launching your own podcast. 
The Business Case
There are three core benefits that make a recruitment podcast amazing for business. They create a fantastic platform for building your brand and founder reputation. They can drive client relationships by starting conversations and building rapport with your guests. They also generate leads, with our clients reporting that about 40% of their new business came through the podcast and the guests that they had on. 
The Strategy
Whether you're getting ready to launch your podcast or prepping to record your next season, you'll need a strategy to get you going. Doing qualitative research is the best thing you could do for your podcast. Talk to your listeners or current audience and figure out what they care about, then build your content around that. Figure out what the biggest challenges and pain points are and make it your mission to solve them. Having a clear objective will help people resonate with your podcast, whether you're solving the skills gap or addressing gender diversity.
Once you've figured out your mission, it's time to find your topics. Try to avoid anything too technical – you want your podcast to appeal to as many people as possible. If it's a recruitment focussed podcast, stick to areas like hiring challenges, diverse candidate pools or actionable tips for talent. You can make these topics specific to your niche, but keep your content recruitment focussed. You can make it more engaging by sharing the personal stories of people in the industry and passing on advice from the leaders who have been there before.
Your final challenge is finding the right cadence for your show. Consistency is the best way to build trust, both in relationships and marketing. If you commit to posting an episode once a week, you have to make sure you can realistically keep to that schedule. This can be made easier by running six month seasons, recording in batches or spacing out your episodes to fit your hectic schedule. Whatever you choose, it's essential to stick to your promises.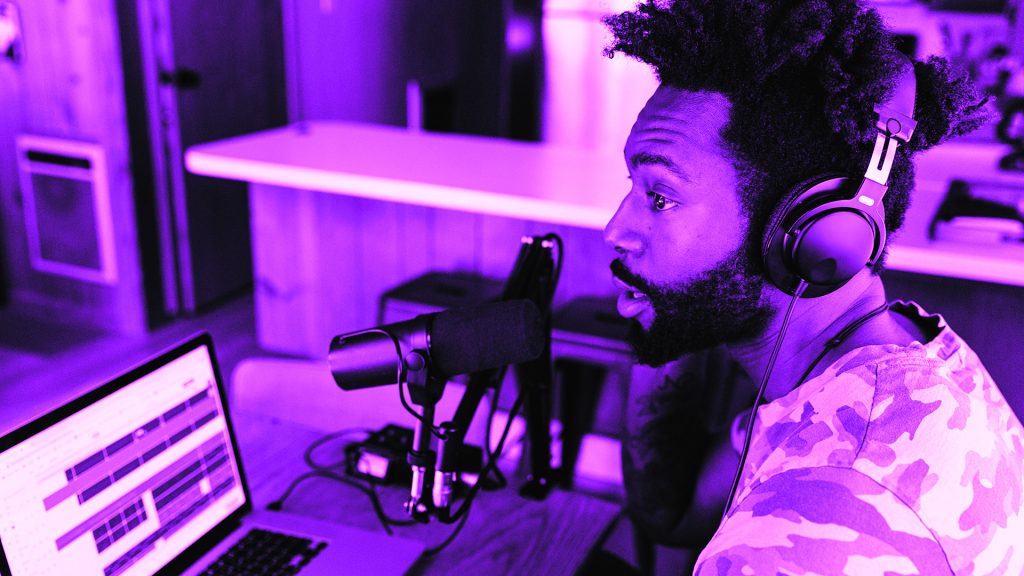 The Tech
Poor connections and rubbish sound quality are every podcaster's worst nightmare. If you're looking for some tools to improve your podcast's quality, look no further. We use software like Riverside to record both you and your guests locally, providing you with video and audio that's not disrupted by a dodgy wifi connection. You can use standard software like Zoom if you're getting started, but we recommend levelling up as soon as possible if you're committed to your podcast's performance.
When it comes to the hardware, your key pieces of kit are your microphone and webcam. If you're on a budget, you can get the Logitech BRIO webcam for around £90, which will give you great quality video for a reasonable price. The sound quality is going to determine your listeners' experience, so it's not something you want to skimp out on. We recommend splashing out for something like a Blue Yeti microphone, which is easy to use and plugs into most computers with a standard USB cable.
Our biggest tip is to do everything you can to avoid recording your podcast on a laptop and pair of airpods. That'll give you crunchy, crackly audio that makes sure nobody ever tunes in again. 
The Marketing
Your work doesn't stop when you hit publish on your podcast. Particularly in the recruitment industry, the best way to build your audience is by repurposing your podcast content to share on LinkedIn. You can share clips from your guests, use tools like Otter.ai to turn your transcripts into great sliders or newsletters and make guest graphics to promote upcoming episodes. Tagging your guests in all of the content from their episodes is a great way to build your audience and build a hype around your podcast.
Another thing to consider is your SEO. Are your episode titles optimised for search engines or inbuilt search functions on Spotify and Apple Podcasts? If you're in recruitment, using the word 'recruitment' in each of your titles is probably a good idea. Try to avoid flowery or overly complicated language, and instead opt for simple, straightforward tags like 'hiring tips for software developers' so that people can find you on organic search. 
So, now that you're sold on launching a podcast for your recruitment business, you probably want all the inside scoops right?
Here are some extra bits of content to keep you going:
Our Ultimate Guide to Starting a Recruitment Podcast
Episode 12 of The Skill Point Podcast
This blog featuring the recruitment podcast king Hishem Azzouz