Hey you.
Are you ready to change your life?
Then it's time to dive into Paul Arden's It's Not How Good You Are, It's How Good You Want To Be.
This book is quite different to any of the other books I've reviewed in this series, but it was recommended by my lovely friend and mentor Luca Rosi, so of course I had to give it a go. It's safe to say that I was not disappointed.
This almost pocket-sized book (if you wear men's clothes, that is) is absolutely packed with advice that I honestly think is applicable to creative people in every profession. It's the kind of thing that you read once, then twice, then dip back into for the rest of your life. 
According to his obituary in The Guardian, Paul Arden was "crucial to the rebirth of design-led advertising", and is famous for several campaigns and slogans that are still used as examples throughout the industry. His unusual perspectives are what fuel the book's content, as well as what made him so successful.
What's inside?
Arden's book is a collection of thoughts, advice and case studies that are both visual and well-written. Every page is quite dynamic, even if it's just solid text, thanks to a range of fonts that are used throughout the book. It's a really quick read too, because the font is fairly big and is accompanied by plenty of illustrations. 
The book is broken up into sections, separated by double pages of black, featuring nothing but a small, simple title. The first section is all about achieving through ambition rather than skills or previous achievements, because achievement is in the past, and creativity is the future. It's a really cool way of looking at things, and is a comforting reminder that your best work probably doesn't exist yet. 
Despite that, Arden has used plenty of examples of his own success in the book. Ads that he wrote or created feature heavily alongside other contributors. As it's actually a book about advertising it's not surprising that the case studies in this book are ads, but it's quite relatable. Copywriting is, after all, the art of persuading people with your writing, so ad writing feels a lot more familiar than I expected it to.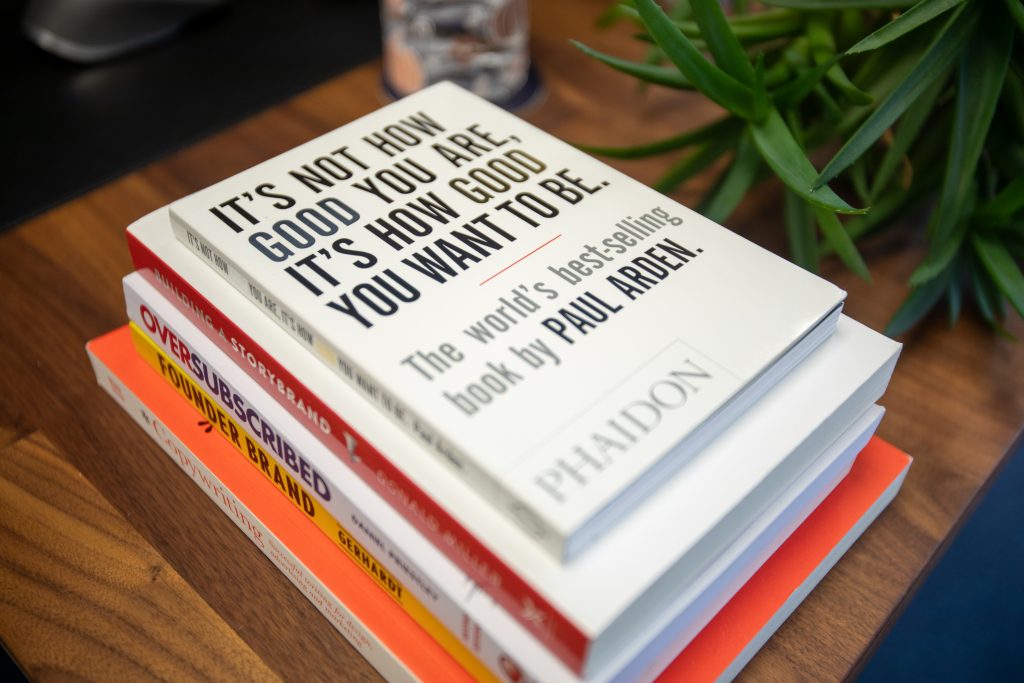 The book is also packed with actionable advice for all creatives, including Arden's thoughts on taking responsibility, seeking criticism and communicating clearly. Every page is like a miniature mindset-reset, which is why I'll be coming back to it for years to come.  
Arden also extols the virtues of being wrong in It's Not How Good You Think You Are, It's How Good You Want To Be. Towards the end of the book he writes that being able to prove that you're right means that you're stuck in the past and aren't able to see the potential of the future. His advice was to embrace being wrong, or at least the possibility of being wrong, in order to come up with more innovative solutions to each task or brief. Sticking to what you know is right is apparently one of the quickest ways to kill creativity. 
Arden's book is fundamentally different from the other books in this series purely because of how it's laid out. There aren't comforting paragraphs that you can sink into for a few hours. Each page is snappy, dynamic… they even pop. It's every marketer's dream, right? Or is it every bookworm's worst nightmare? While it's brilliant content and great visuals, I have to admit that I did find it a little abrupt. It's a great example of the concise and compelling nature of advertising, but it's not the pleasant reading experience that I'd need to give something a five star review. 
So what is the verdict?
My recommendation:
Arden's book is a brilliant guide for anyone pursuing a career in the creative industry. It's something I would highly recommend reading, and I'll certainly be going back to it again and again.
However, my own personal rating system (which you may be familiar with from the last instalment of Soph Reads Stuff) dictates that only books that genuinely move me earn a five star review. It's Not How Good You Think You Are, It's How Good You Want To Be. has everything else that I could possibly want in a book though, so I'm granting it a 4 out of 5. Sorry Luca.
Rating: 💜💜💜💜🤍
TL;DR
It's Not How Good You Think You Are, It's How Good You Want To Be. is a wonderful book by a man who was, by all accounts, a brilliant creative. It's definitely worth a read if you're in a creative industry, and some of his career advice is probably applicable even if you aren't. All I'm missing is the emotional connection, but as with my last review that is entirely a personal preference.
Want to chat about books? Find me on LinkedIn –> Sophie Colclough 🥰